Vinyban™ Vacuum Press Film (BHS Film)
Surface cosmetics for building materials
Good base material vacuum press mold processing
Little shrinkage after vacuum press mold processing
Easy transition to base material
Surface transfer (vacuum)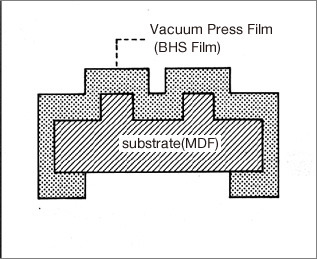 Application
Housing interiors: System kitchens, doors, sideboards, etc.
Furniture: Tables, cabinets, etc.
Performance

All measurement samples are made by laminating 0.1-mm films.

Heat shrinkage resistance: After bonding together a film and MDF by vacuum pressing, diagonal cuts were made in the film with a cutter. After leaving the film in a 60°C oven for 24 hours, the shrinkage in the edge area and the opening in the corner area were measured.
Creeping property: A sample (25-mm width, 100-mm reference line) was elongated up to 200 mm at 60°C using a tensile tester and was released. After leaving it to stand for five minutes, the shrinkage was measured.
Flex temperature: JIS-K-6734 (Clash-Berg test)
The values are actual measurements and are not specifications.