Vinyban™ Marking Film
PVC film material also called adhesive paint
Wealth of colors available, including order-made
Vivid color due to specialized color development technology
High performance and functionality due to accrued compounding and roll technology
Excellent adhesion, with the flexibility to fit a variety of materials and shapes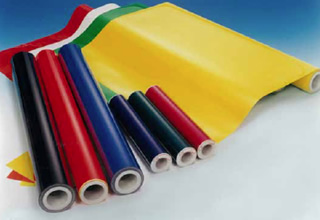 Application

■Related information
PVC marking films are usually required to have low shrinkage. Hence, they have been manufactured with the casting method.
However, we used the calendar method technology and developed a film that has an equivalent quality with the one made with the casting method.
Our marking films made with the calendar method have the following features:
They have price competitiveness with the films made with the casting method while ensuring an equivalent quality.
They can be manufactured in small lots; hence, they have price competitiveness in small-lot orders, which eliminate waste.
Various patterns and gloss, which are the features of the calendar method, can be flexibly provided.
Lineup

Outdoor specification A (excellent weather resistance)
Outdoor specification B (general weather resistance)