BANCOLLAN™ Long Synchronous Belts
Long synchronous belts made of polyurethane
Wire tension members ensure that there is almost no belt elongation, even on long spans
Aramid tension members are used for food conveying applications
Different profile shapes can be affixed to the back of the belt by heat fusion
Clean transmission and conveying without dispersing rubber dust, so the surrounding area remains clean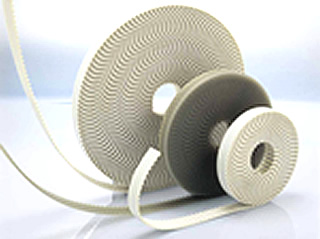 Applications
Two types of Bancollan Long Synchronous Belts are available for long span synchronous transmission and synchronous conveyance in industrial equipment
•Endless (one seam) and Open End
Lineup

■Endless belt

■Open end belt

The nominal widths indicate the following:
STS: Belt width (mm) × 10
Type T: mm
Types XL, L, H: the width in inches multiplied by a factor of 100
We cut and finish the endless belts to a requested length.
The belt minimum length for each belt type and width is as follows.

*For information on endless belts, please contact us.