BANCORD™ Round Belts and V-Belts
Thermoplastic polyurethane open-end belts, easily joined by heat fusion
Belts can be easily fused by heat, allowing for any length to be accommodated
Install without equipment disassembly, with little need for tension adjustment
Bancollan (polyurethane) has excellent mechanical properties, with excellent resistance to abrasion and tearing
Bancord Round Belts can be used on complex multi-axis drives or with idler pulleys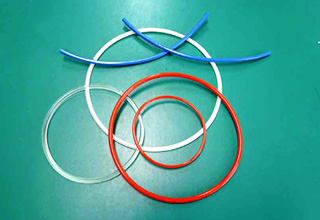 Applications
Drive and conveyance applications in automated equipment such as office equipment and packaging machinery
Lineup

■Bancord Round Belt

■Bancord V-Belt

Colored belts and grained-surface belts are manufactured on a pre-order basis. For information on delivery date and lot, please contact us.
Bancord Round Belts are stocked in rolls. We can cut or joint them upon your request.
Normally, please use the belts with 5% tensioning.