Message from the Top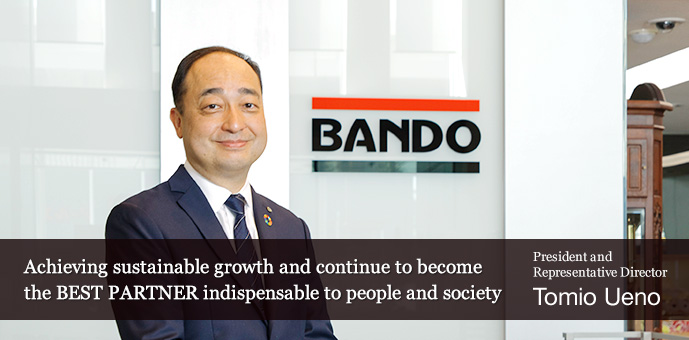 State of progress of mid to long-term business plan

The Bando Group worked out a mid to long-term business plan "Breakthroughs for the Future" to run for 10 years from fiscal 2013 to fiscal 2022, and management moved forward based on that. Fiscal 2017 is last fiscal year of the 5-year first stage (BF-1) of Breakthroughs for the Future. Regarding BF-1, with the goals of evolution and deepening of current business and strengthening of research and development and market development, we set 5 guidelines: Evolution of global market strategy; Product evolution; Evolution in manufacturing; New business creation; Evolution in management quality, and have implemented various measures. Moving toward realization of aspirations for 10years ahead, corporate structure is improving and there are also changes to the environment of each department, there is a delay with expansion of the planned scale. This fiscal year we will complete the goals of the 5 guidelines of BF-1 and connect with the second stage.

Content of concrete efforts

In the first stage, while on the one hand we worked to improve the profit earning ability of our current business of which our key is the belt business for transportation and power transmission, we also aimed to create new businesses. The majority of our current business efforts are focused on Asia. Especially in emerging markets such as India and Vietnam, market cultivation is progressing steadily, and achieved growth according to expectations. Aiming for further sales expansion, we will implement an increase in production lines in our Bangalore Plant in the south of India, and transfer and extension of our Head Office Plant in Gurgaon in the north. Also, we plan to carry out extension of production facilities in Vietnam with transfer to a new plant. Because we foresee an increase in demand for belt products in emerging countries we will steadily proceed with structuring an optimal global production, sales, and supply system. On one hand we will see a decrease in our current mainstay, transmission belts for auxiliary drives, as the move to electric automobile engines further progresses moving to electric. On the other hand, there is a re-occurrence in demand for synchronous drive belts, and with the conversion of automobiles to electric, we a putting effort into development of such things as Thermal conductive sheets that is important for thermal management, and Optically clear adhesive sheets (Free Crystal™) used in automobile displays.
The whole Bando Group will work together to steadily implement the mid to long-term business plan, and we intend to make efforts to sustain our growth potential and further improve our corporate value.
June, 2017