Message from the Top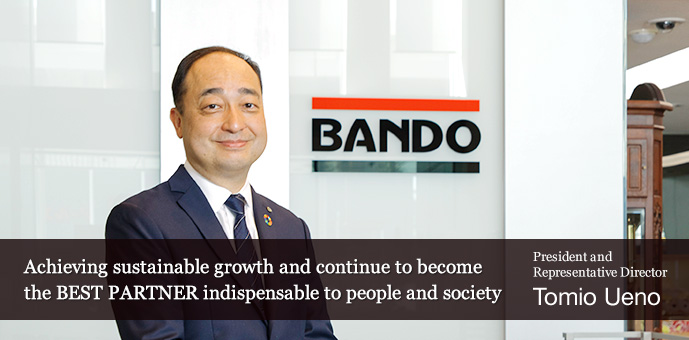 Domestic business efforts

In Japan, we want to continue to supply high value added products with high functionality such as high-load handling CeptorTM-Ⅹ toothed belt, and Bando Wiper EdgeTM EX seal blade for machine tool sliding parts. Additionally, we do not want to only sell products, but further improve customer value by proposing solutions to 'things' that become necessary when customers are using our products, and offer maintenance and monitoring services. Regarding the capital investment in domestic plants last fiscal year, a production system for high quality products has been completed with operation of the new conveyor belt production line in Kakogawa Plant having started in June this year, and operation of the urethane precision belt new production line in Ashikaga Plant having started in October this year. Also, at the Nankai Plant, progress is being made on the new production line for automotive belts. From here on, we will utilize these model lines and move forward with evolution in manufacturing as our aim.

Overseas business efforts

Overseas bases in India and Vietnam that have, in recent years, been the receivers of significant capital investment are transitioning steadily. In Vietnam, plans are progressing to acquire a new site in the No. 2 Thang Long Industrial Park, in the same place as present, and transfer and expand this fiscal year. We want to commence work within this fiscal year, and start operations next fiscal year. In India, there we plan to carry out expansion of production facility for automotive belts and parts for two-wheeled vehicles. China is also transitioning quite strongly, and acceptance of belt products for industrial machinery and agricultural machinery is spreading. In Thailand, we want to integrate the Malaysia wiper blade rubber production plants, carry out investment to enable even better manufacturing, and further strengthen our business foundation. Additionally, in North America, in October last year our American subsidiary established a sales company in Mexico City, and is pushing ahead with sales expansion in the automotive belt aftermarket.
From here on we expect further expansion of our overseas business and, in order to continue to grow as a true global company, we will carry out optimal division of labor with our domestic businesses including pioneering new business, and aim for further innovation.
December, 2016