Mid- to Long-Term Management Plan

Aim of the Mid-to-Long-Term Management Plan
The aim of the Bando Group over the next 10 years is to be a "stand out" supplier of belts and functional products on a global basis, using the trusted quality and our core technologies in rubber, elastomers and resins which we have refined since our founding.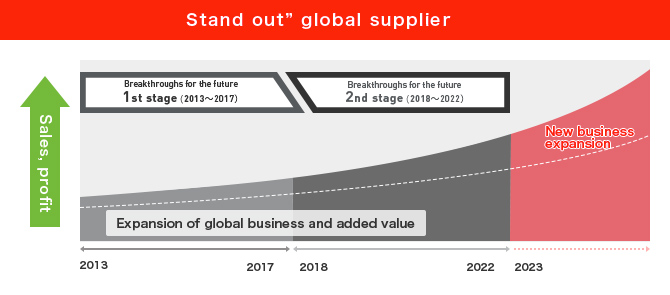 The first stage of the Plan is from 2013 through 2017; the second stage runs from 2018 through 2022.
Mid-term plan "Breakthroughs for the future 2nd stage" (2018 - 2022)
During this stage we will work to achieve our targets using four guidelines.
Four Guidelines
New Business Creation

Regarding activities related to creation of new business, preferentially distribute management resources and plan business portfolio conversion.

Core Business Expansion

Acquire top market position in important markets by providing high value-added products and improvement of convenience for customers.

Enhancement and Evolution in manufacturing

Grow our core businesses globally. Improve profitability by evolving manufacturing technology and systems.

Work style Innovation of Individuals and the Organization

Through work environment and system reformation, training and consciousness of human resources, promote an autonomous and creative work style.
FY2022 Consolidated targets
Net sales
Operating income
ROE
New product ratio
120 billion yen
12 billion yen
12.0%
over30%
(New business: over 10%)