Message from the Top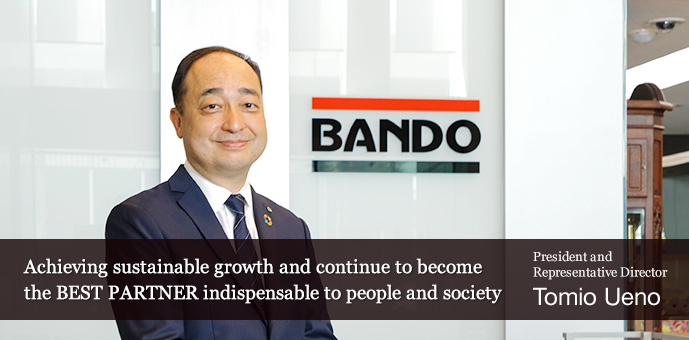 Regarding efforts toward New Business Creation

The first guideline in the Bando Group mid to long-term business plan "Breakthroughs for the future" is 'New Business Creation'. By putting priority on distribution of management resources for establishment of the Optoelectronics fields and the welfare/nursing care fields we plan a conversion of our business portfolio.
Last April we newly established the New Business Promotion Center, and we consolidated the system in order to cultivate and accelerate new business. As a result, in the Optoelectronics fields we started full-fledged sales of precision abrasive TOPX®, and efforts toward commercialization have progressed steadily.
In the welfare/nursing care fields, additional efforts are being placed on making products that utilize elastic strain sensor C-STRETCH®, and by purchasing all shares in medical machinery manufacturing and sales company Aimedic MMT CO., LTD on May 8, 2019, we acquired in a single swoop the quality assurance and pharmaceutical application medical business system possessed by that company. From here on, while utilizing the network that that company possesses, we will move forward aiming for early establishment of the welfare/nursing care fields Business.

Regarding efforts in Core Business

In order to grow globally the automotive parts business and industrial materials business, which are our core businesses, we are developing products that correspond with demands for high capacity and high performance industrial machines of all types, and we are planning for sales expansion in untapped fields. Regarding the automotive parts business, there is a reduction in demand for our mainstay belt products, but we are making effort toward new use demands such as belt drives for electric power steering and power sliding doors that were conventionally driven by hydraulic or mechanical gear drives. Regarding EPS belt for electric power steering, we started mass production and delivery to some makers, and from hereon we aim to expand adoption of this belt. Regarding industrial materials business, we are targeting leading companies in each field, and through development of products that meet needs we are making effort toward share improvement on the global market.
Also, we are aiming for fixation of consolidated cost of sales rate of under 70%, and in addition to conventional workplace improvement activities, we are developing innovative manufacturing methods for power transmission belts. Through utilization of AI and IoT we are putting effort into work style reform in order to reduce SG & A expenses ratio, and by proceeding with global optimal production sharing with consideration to exchange rate fluctuation and product lifecycle global optimal production sharing we are aiming for improvement of earning capacity. All of this is part of our push for sustained improvement in corporate value of the Bando Group.
June 2019