Message from the Top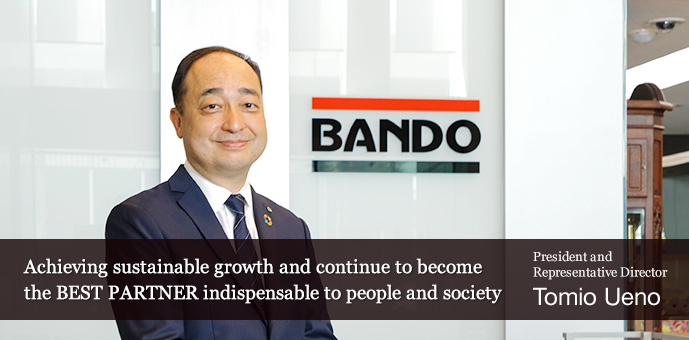 In the external environment surrounding the Bando Group, there is growing interest toward carbon neutral and SDGs, AI and IoT technology, and also such things as autonomous driving and regenerative medicine, and we are in the midst of the fourth industrial revolution. New technology is being born one after another, and coupled with the spread of infection of the novel coronavirus, we are facing a big inflection point that changes lifestyles.

Under such circumstances, the Bando Group has, since founding in 1906, had experience of overcoming many hardships and demonstrating the supplenessflexibility cultivated there, fulfilling sustainable growth, and carrying out diligent business activities. For "Creation of New Business", in the medical equipment field, which is one of our important fields, our consolidated subsidiary, Aimedic MMT, developed and started sales of AT Measure®, a product that applies the elasticity sensor C-STRETCH® technology developed by our company. For "Core Business Expansion", in addition to starting sales of Mister SiIky Touch® anti-stick belt for food applications with surface releasability and excellent slipperiness, and Techria® EGS-T thin polyethylene film for building materials that has reduced waste and reduced CO2 emissions from manufacturing to disposal, we also promoted customer acquisition for establishing important markets. Also, for "Deepening and Evolution of MONOZUKURI", in order to improve profitability, we put efforts into development of innovative manufacturing methods and construction of automated lines. We have come forward with efforts on work style reform of individuals and the organization that supports these 3 guidelines, working from home with anticipation on "with corona" and "after corona", and such things as the furtherance of remote meetings and utilization promotion of IT tools.

We look forward to your continued support.
April 2022