Message from the Top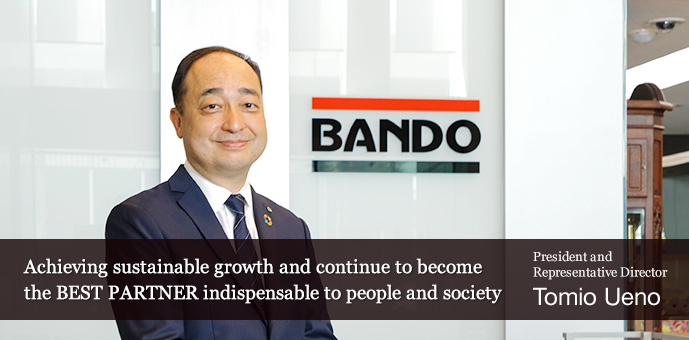 The external environment surrounding our company group, with such things as the recent spread of infection of the coronavirus, cases that could not have been predicted are happening one after another. Also, digital transformation with IoT and AI at its core is bringing the fourth industrial revolution with still more speed, and we are at the inflection point of the times. Because we are at such a time, with things such as response to these changes and efforts toward SDGs, I regard this as an opportunity to establish new business for the next generation.

The situation at hand, regarding the automotive field which is the main market of our company group, in addition to the lack of clarity of the future of the business climate and a tone of deceleration due to the prolonging of the China-United States trade friction, we have to deal with the influence of the spread of infection of the coronavirus, and automobile production volume as a whole has remained below the level of the previous fiscal year in each country. In a situation like this, our company group, in our efforts toward "Cration of new business", made Aimedic MMT, a company that develops products with characteristics in the medical equipment field, a subsidiary and by utilizing our business foundation we made preparations to accelerate development. For core business expansion, in addition to starting sales of new products such as Mister N Stick™, a belt for light transport for transported goods with high core adhesion with improved non-adherence qualities, and Easy Release ®Neo optimal super non-stick conveyor belt with adhesion and accumulation countermeasures for cargo, we set up important markets and promoted customer development. Also, we put efforts into such things as development of innovative manufacturing method and construction of automated lines, as well as into deepening and evolution of MONOZUKURI. Results for the current consolidated fiscal year: sales revenue of 90,247 million JPY (a 4.3% decline year-on-year); core operating income of 5,252 million JPY (a 19.2% decline year-on-year); pertaining to recorded impairment loss owing to consolidated subsidiary; operating income of 2,056 million JPY (69.8% decline year-on-year); and net income 682 million JPY (87.5% decline year-on-year) belonging to the owner of the parent company.

Thank you for your continued support.
June 2020