Message from the Top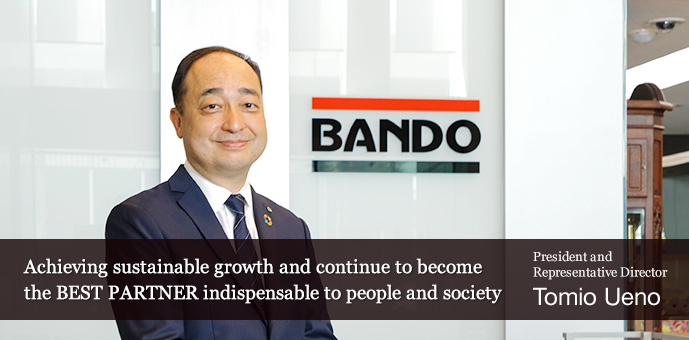 The external environment surrounding the Bando Group, in what is said to be an inflection of the times, with such things as SDGs and the challenge of going carbon neutral, and global expansion of COVID-19 infection coupled with the symbolic geopolitical risk of the Russian invasion of Ukraine, we are moving into an era in which the future is increasingly uncertain.

Since our founding in 1906, in any era we have fulfilled continuous growth with the goal of contributing to people and society. We have been carrying out business activities and, in the current consolidated fiscal year also, with the 4 guidelines of: "New Business Creation", "Core Business Expansion", "Enhancement and Evolution in Manufacturing", and "Work Style Innovation of Individuals and the Organization" that we set under the second stage of our mid-to-long-term management plan"Breakthroughs for the future", we carried business activities diligently and done such things as listed medical and health care products that utilize C-STRETCH® elasticity sensor on the market, and developed a new high load support toothed belt.

This is an era of rapid change, but we have the will to confront this with flexibility and a sense of speed.

Thank you for your continued support.
June 2022