Message from the Top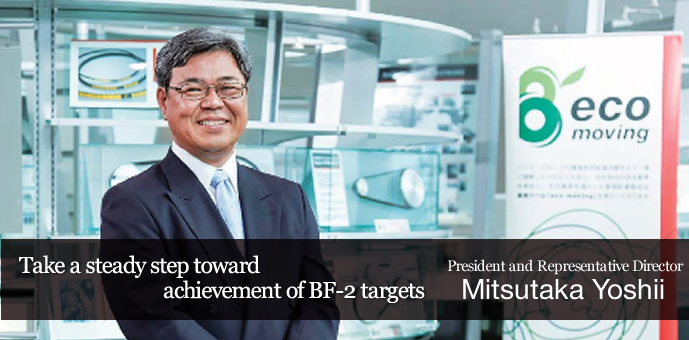 Our efforts towards the acceleration of automobiles moving to electric

With the spread worldwide of hybrid vehicles (HV) and electric vehicles (EV) there is an increase in vehicles that do not use accessory drive transmission belts, and a possibility of a decrease in demand for automotive belts. In particular, I think this impact will emerge during the second stage (Fiscal 2018 – fiscal 2022) of our mid-to-long-term business plan, "Breakthroughs for the future". In response to demand decrease for our key products - belt products for automobiles, we want to supplement with the expected new demand for belts to drive things such as electric power steering, electric brakes, and power sliding doors that are conventionally driven by hydraulic and mechanical gears. From an even further long term point of view, we are moving forward with products that we expect an increasing demand for such as film products as automobile paint substitutes and, in association with automobiles move to electric, important products that contribute to heat management such as high thermal conductivity sheets. Also, we are steadily moving forward with efforts toward creating new business utilizing the Bando Group's strength with rubber elastomer related technology such as developing new products for the optoelectronics and power device fields, and the medical care and welfare services field.

The establishment of the Bando Group Health Declaration

Our company set and action guideline: "Each person makes health management efforts, and creates a workplace full of liveliness", we have made efforts in the workplace with mental health counter-measures (strengthening self care and line care) and promotion of health promoting behaviors to help improve and prevent lifestyle diseases. From here on, while linking with work style reform, we should map out employee health and make clear our efforts as a group, and in order to press forward strongly with these efforts we enacted the Bando Group Health Declaration.

≪Bando Group Health Declaration≫

Bando Group believes that each person's mental and physical health is the foundation for Group development, and we will strengthen promotion of employee health.
1.Under the leadership of top management, the Bando Group will solidly unify
and promote health management.
2.Support employee efforts toward health and excitement.
3.Aim to create lively workplace while linking with work style reform.

-Priority Measures-

1.Solid unification
Set a "Healthy and lively workplace creation team" in each workplace and, while making the most of the
idiosyncrasies of each workplace, the Company, employees,
and health insurance union unify in health cultivation efforts.
2."Exciting" health cultivation
Carry out efforts so that each person settles on a health vision and can personally experience
the effects of health cultivation.
3."Lively" workplace environment
Aim for a workplace with an abundance of employees with enriched work and leisure time.
December, 2017