Message from the Top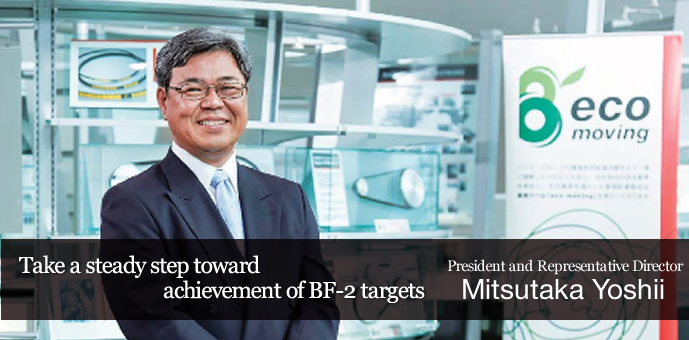 Looking back on the first stage of our mid-to-long-term management plan (BF-1)

In the "Breakthroughs for the future" mid-to-long-term management plan that we established in 2013, the themes for the first stage (BF-1) were to "Strengthen existing business" and "Create new business." In the strengthening of our existing business, the shift to hybrid and electric vehicles proceeded faster than we originally expected and the result was that there was little growth in our sales of auxiliary drive transmission belts, which are one of our major products. However, sales of our variable speed belts for scooters increased, particularly in the Asia region such as in Thailand, Vietnam and India. Also, in transmission belts for industry, there was growth in the sales of our "SYNCHRO BELTS™" for use in monitoring cameras and ATM in addition to industrial machinery and agricultural machinery. For the other theme, the creation of new business, the automobile industry is arriving in a period of change and in response, we have promoted the development of products utilizing our core technologies. In specific examples, we developed the "HEATEXTM" thermal conductive sheet that focusses on the importance of heat management for the improvement of the performance of electronic components on automobiles. We also promoted the development of the "C-STRETCH™" elastic strain sensor for medical and healthcare equipment, the "Free Crystal™" clear adhesive sheet for optics that improves the legibility of displays and the "TOPX™" precision abrasive suitable for polishing for electronics. In this way, we actively promoted the nurturing of new business that will become pillars of our company in the next generation.

The second stage (BF-2) of our mid-to-long-term management plan has begun.

Four guidelines have been stated for the second stage (BF-2) that began from fiscal 2018: "New business creation," "Core business expansion," "Enhancement and evolution in manufacturing" and "Work style innovation of individuals and the organization." The Group will work together to diligently perform the business activities in order to achieve the targets of BF-2. Of these guidelines, our policy is to particularly prioritize the utilization of management resources for "New business creation." We will also put effort into changing our way of working through measures such as reconsidering the work methods of individuals and organizations, because the promotion of the health of employees and an efficient and highly productive way of working become the foundations for us to achieve the targets of BF-2.
June, 2018