Responding to climate change is recognized as one of the common issues across the globe*1, with carbon neutrality initiatives being accelerated in Japan and overseas. The Company also recognizes it as one of the priority issues and focuses on the research on the use of materials that contribute to carbon neutrality and on the initiatives to reduce CO2 emissions.
*1 Source: The Global Risks Report 2021/World Economic Forum
SDG to which the Bando Group will contribute

In order to reduce CO2 emissions which is one of the aggravating factors for climate change risks, the Company has implemented various initiatives such as shifting to different fuels, LED lighting, switching to high-efficiency equipment including high-efficiency boilers, and at business locations, in addition to aggressively adopting modal shifts, joint deliveries, and milk run logistics. We are also proactively adopting new methods such as ESCO service and Joint Crediting Mechanism*2.
Through these initiatives, we managed to reduce CO2 emissions (scope 1 and 2) to 41,791t (down 30% from fiscal 1990) in fiscal 2020, achieving "fiscal 2020 target" to "reduce CO2 emissions by 20% compared to fiscal 1990 (59,802t) by fiscal 2020."
In fiscal 2020, we developed a roadmap to achieve the "fiscal 2030 target" formulated in 2019 to "reduce CO2 emissions by 18% compared to fiscal 2013 (54,703t) by fiscal 2030."
We will proceed with the installation of energy-saving facilities to achieve the target in line with this roadmap and also continue discussions to set more workable targets in light of higher target level announced by the Japanese government under "Declaration aiming to achieve carbon neutrality by 2050."
*2: Joint Crediting Mechanism: Advanced countries provide technology and investment to developing countries to reduce CO2 emissions, and resulting reductions count toward the targets of advanced countries in the bilateral mechanism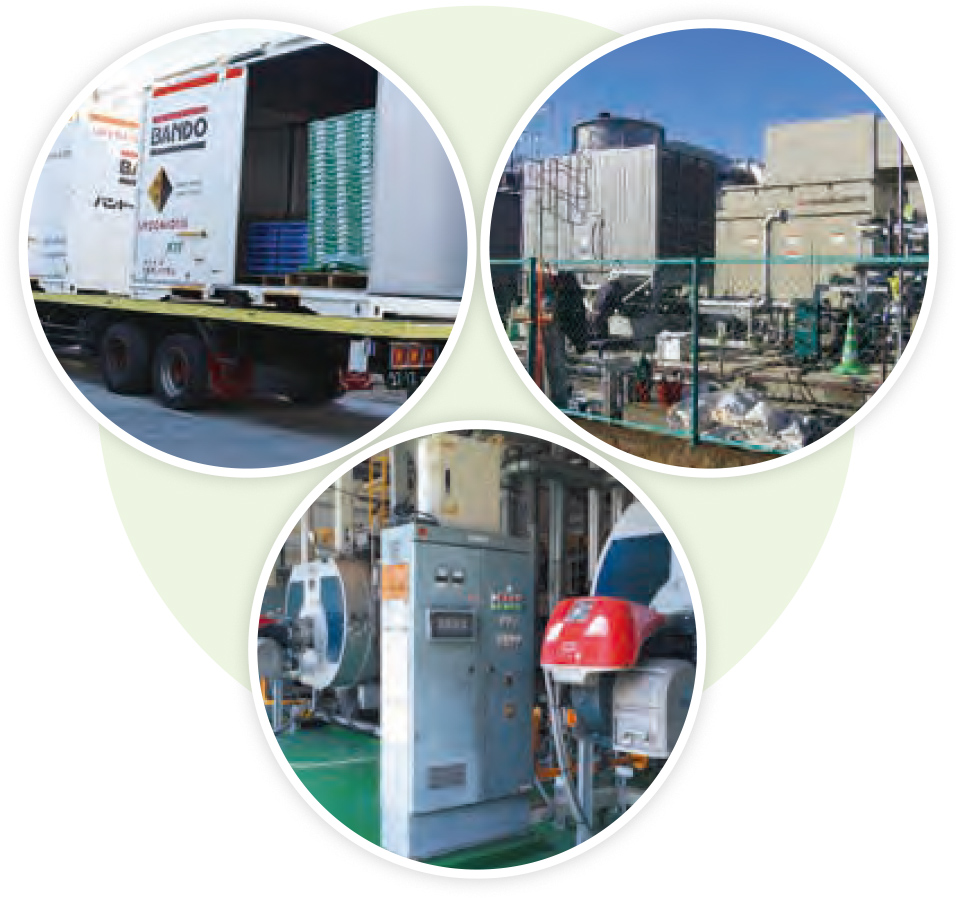 Modal shift
Switching to high-efficiency equipment
Introduction of high-efficiency boilers
(Joint crediting mechanism)
In August 2020, the Company was selected for a subsidy by Japan's New Energy and Industrial Technology Development Organization (NEDO) for the "Development of cellulose nanofiber (CNF) manufacturing technology that contributes to a sustainable carbon cycle."*3 In collaboration with Tosoh Corporation, a chemical company, we are working under the theme "Development of low-cost technology for manufacturing CNF-reinforced chloroprene rubber (CR) for use in transmission belts."
In order to realize a sustainable low-carbon society while overcoming the potential future supply risk related to oil resources, it is necessary to shift to non-petroleum resources such as biomass. Cellulose nanofiber (CNF), which is plant material, is a biomass-derived high-performance material that is one-fifth the weight of steel yet five times as strong. While expectations for its commercialization are rising, further market expansion requires the development of new applications and the cost reduction.
*3: This subsidy project encompasses the development of manufacturing process technology to significantly reduce CNF manufacturing costs, the promotion of application development, and the safety assessment toward the rapid social implementation and market expansion for products using CNF. The ultimate aims of the project are the reduction of CO2 emissions and realizing energy transition and carbon neutrality.
Cellulose nanofiber (CNF)
CNF is a cutting-edge biomass nanofiber material created by defibrating plant-derived cellulose to about 20 nanometers in diameter and several micrometers in length. It is lightweight and highly strong, and is attracting attention in resource-poor Japan and around the world as a new material that makes use of forest resources.