Top Message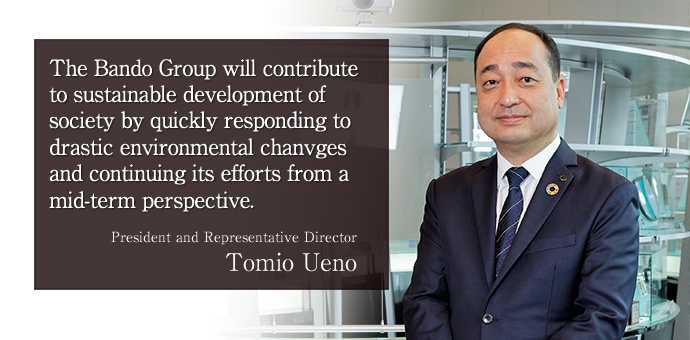 Achieve Both Contribution to Society and Business Growth to Pass Them on Future Generations

With no end in sight in the COVID-19 pandemic, concerns over global inflation and Russia's invasion of Ukraine have heightened uncertainty about the future of the business environment surrounding the Group. The world which has been in the "VUCA* era" for several years now is becoming more VUCA than ever.
Under these circumstances, I was appointed President in the final year of the mid-to-long term business plan "Breakthroughs for the future" which the Group has implemented over nine years since fiscal 2013, and I have an unwavering commitment to pursue the "management on two wheels" (aim for both new businesses creation and core business expansion) which the Group has been focusing on. Also, under the management philosophy, I will drive our initiatives to respond to changing social needs, engage all stakeholders, and keep delivering new values. We aim to achieve both "contribution to society" and "business growth" to "pass on" them on future generations while returning profits to stakeholders, in an effort to meet the trust of society and contribute to its sustainable development.

*Volatility, Uncertainty, Complexity, and Ambiguity
Show up at the Site and Make Decisions Quickly and Flexibly

In the next mid-to-long term business plan currently under development which will start in fiscal 2023, we intend to strengthen sustainability to "pass on" a healthy society and global environment to future generations and increase investment in "people" who support these activities, in addition to the above-mentioned "management on two wheels." Specifically, we will strive to improve employee satisfaction (ES) by sharing the Group's values and directions with all employees and focus on creating a system and environment where everyone can work with excitement. To this end, we will emphasize dialogues between the Company and individual employees while creating a culture that have each employee always feel positive about their jobs and surroundings as well as do their best, in order to achieve overall optimization, i.e., ES improvement.
In the automotive parts business which is experiencing a faster-than-expected shift to EVs, we will ensure to take in the replacement demand of repair belts including that in overseas markets, which is expected to continue for some time, and ensure to meet the needs for new products stemming from the shift to EVs.
To promote these measures under the above-mentioned severely changing environment, I myself will show up at the sites to see the actual sites/products and make speedy and flexible decisions. At the same time, we will capitalize on the Group's strength of "adaptability (resilience)" and speed up execution to produce results.
"CSR Promotion Themes" Fiscal 2021 and Current Initiatives

In fiscal 2021, the fourth year under the current "CSR promotion themes," some progress was made in each theme.


[Products and services]


With the start of sales of precision urethane belts, etc., "Environmentally-Friendly Products (the Company's voluntary standards)" accounted for approximately 65% of the newly marketed products in fiscal 2021, achieving our long-held target of "50% or more" for the first time. In addition, we started an initiative for mass production in the innovative line for industrial rubber belts at Wakayama Plant.


[The Environment]


The Group set a target to reduce CO2 emissions from fuel usage and electricity by 38% compared to fiscal 2013 by 2030 (on a non-consolidated basis) with a goal of realizing carbon neutrality, virtually zero CO₂ emissions, as the Group by 2050.
To achieve this goal, we will accelerate the shift of production methods and a proactive introduction of solar power generation.


[Labor/Safety]


The Group has always prioritized the safety of employees above all else and has conducted thorough risk forecast and education on compliance with rules. Unfortunately, however, serious accidents occurred in September last year. In response, we issued a "safety emergency declaration," conducted safety re-inspections at all workplaces, and promoted activities to further raise safety awareness among all employees.
In terms of investment in human capital, we resumed global sales seminars that had been canceled due to the spread of COVID-19 via online, and started education specializing in developing next-generation leaders who can play an active role in Japan and overseas. In addition, as part of our initiatives for the "Living with COVID-19," we introduced the vaccination leave as a special paid leave, which can be used not only for vaccination of employees but also for vaccination of their family members as well as when their children's schools are closed. Based on our slogan of "Allows for the material and spiritual growth of all its employees" upheld in "Our Corporate Goals," we will continue to pursue the "management that values people" that we have inherited for many years while evolving it in line with the times.


[Compliance/Human rights]


In fiscal 2021, we distributed "CSR Procurement Guidelines" prepared in fiscal 2020 for suppliers to domestic affiliates and expanded the scope of assessment to suppliers of domestic affiliates.


[Stakeholder communication]


We participated in "Port Island Science Festival" in Bando Kobe Science Museum for which we acquired the naming rights, and gave a demonstration using C-STRETCHTM. Nankai Plant participated in the "Town Guard" of the local Sennan Police Station, contributing to the creation of a safe community for children. In addition, we are making various efforts in communities in Japan and overseas where we have business locations, such as Bando Manufacturing (Thailand) donating clothing and Bando Manufacturing (Vietnam) making a blood donation.
We appreciate continued understanding and support from our stakeholders.
August 2022

Tomio Ueno
President and Representative Director, Bando Chemical Industries, Ltd.