Top Message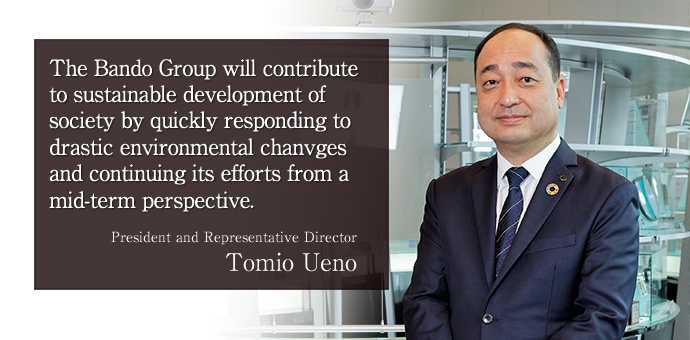 Continue to meet society's needs in line with our management philosophy

Surrounded by the external environment including growing interests in carbon neutrality and SDGs, the fourth industrial revolution driven by AI and IoT technologies, the emergence of new technologies such as autonomous driving and regenerative medicine, and the spread of COVID-19, we are facing a major turning point that could even change our lifestyles. Under such circumstances, the Bando Group is vigorously conducting business activities to achieve sustainable growth by drawing on its experience of having overcome a number of hardships since its foundation in 1906 and flexibility developed through such experience. As part of our efforts for the core businesses, we are implementing new sales approaches for the New Normal era such as creating a special website which introduces our core products of transmission and conveyor belts, mainly high value-added products, to improve customers' convenience and also holding webinars to promote communication with customers. Meanwhile, in our new business, Aimedic MMT Co., Ltd., a medical device manufacturer and our consolidated subsidiary, developed and started selling "AT Measure™," the first medical device using our elastic strain sensor "C-STRETCH™." This is a major step for the Bando Group, and we will make further effort to expand our medical device business.
With a sense of mission that the Bando Group's products support the industrial infrastructure in various markets, we will continue to contribute to sustainable development of society by developing and offering high value-added products that solve social issues in a wide range of fields.
Toward contribution to achieving carbon neutrality

The Bando Group recognizes that the change in business environment due to worsening climate change, one of the top global risks in recent years, as one of the key management issues and has been implementing various initiatives to reduce CO2 emissions. Under such circumstances, we will further promote group-wide initiatives in response to the Japanese government's "Declaration aiming to achieve carbon neutrality by 2050."