Top Message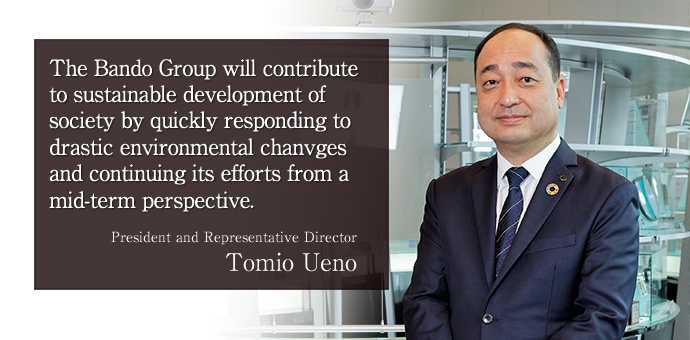 Set Group targets for SDGs

Since April 2019, the Bando Group has focused on CSR activities based on new "CSR promotion themes" and "material issues" that are closely linked to our management philosophy to "provide products and services meeting social needs with a spirit of harmony and in good faith." In January 2020, we set Group targets for SDGs. The Group targets show a path for the Group to make contributions toward the realization of sustainable society through our businesses and corporate activities by setting three targets for SDGs, that are closely related to our initiatives under the mid-term business plan, to which we can contribute most while aiming to contribute to various SDG targets through CSR activities in the future.
Continue efforts from a mid-term perspective while responding to environmental changes

The external environment surrounding the Bando Group has been becoming increasingly severe due to turmoil caused by the recent U.S.-China trade friction and the global pandemic of the COVID-19, etc. Particularly, the impact of the COVID-19 on society and economy is expected to be the largest since World War II and prolonged, which is expected to have a significant impact on the Bando Group's business results.
The society is unlikely to go back to the same as before even after the COVID-19 is contained as we seem to be reaching a major turning point with drastic changes in our lifestyle, such as the infection prevention measures and penetration of teleworking, as well as further acceleration of digital transformation.
In response to various changes in market trends, the Bando Group is also starting to make various changes in its sales approach and the system of supply chain, but I consider the responses to the COVID-19 as not only "crisis" but also opportunities to create new work styles and values by changing the existing "criteria" and "methods." While ensuring to deal with these changes, we intend to promote our mid-term business plan unwaveringly with a sense of mission and responsibility that "our products support society" and continue CSR activities befitting the times with an aim to enhance our corporate structure and earn the trust of society.
"CSR Promotion Themes" Fiscal 2019 and current initiatives

In fiscal 2019, the second year under the new "CSR promotion themes," some progress was made in each theme.
◆Products and services
We launched two new environmentally-friendly products. In the rubber belt production line in the Nankai Plant, we were able to significantly improve labor productivity and reduce material losses by drastically changing the traditional production method with the changes made in materials and product design and by introducing robots for automation and labor saving. We also proactively use AI to improve operational efficiency.
◆The environment
In order to achieve "fiscal 2030 target" to reduce CO2 emissions by 18% by fiscal 2030 compared to the fiscal 2013 level, we replaced lighting fixtures to LED lighting in the laboratory building of the Head Office. In terms of reducing wastes, we have steadily implemented initiatives in overseas as well including a waste segregation program in BSMC (Shanghai, China).
◆Labor/Safety
As our childcare support programs including childcare leave, short working hour for childcare and work-from-home system were evaluated, we received "Kurumin" certification. And Ashikaga Plant achieved a record of 3,700,000 hours of accident-free operation.
◆Compliance/Human rights
In order to improve effectiveness of our internal reporting system, we developed and implemented improvement measures including "increase in contact points," "acceptance of anonymous reporting," and "reinforcement of confidentiality obligation of those involved in the investigation."
◆Stakeholder communication
The Bando Group participated in "Port Island Science Festival" in Bando Kobe Science Museum for which we acquired the naming rights in 2014. Nankai Plant expanded its community-based road safety and crime prevention activities, including watching over elementary school children going to school on nearby roads, calling on the local government to introduce traffic lights preventing vehicle-pedestrian conflicts, and putting a PR sticker aimed at preventing money transfer scam on company cars. In addition, as a support for measures against the COVID-19, we donated transparent PVC films (our products) to prevent infection via droplet to the local community where Nankai Plant is located. Overseas offices have also implemented initiatives including donation by BMDG (Dongguan, China) to Hubei Charity Federation in China.
We appreciate continued understanding and support from our stakeholders.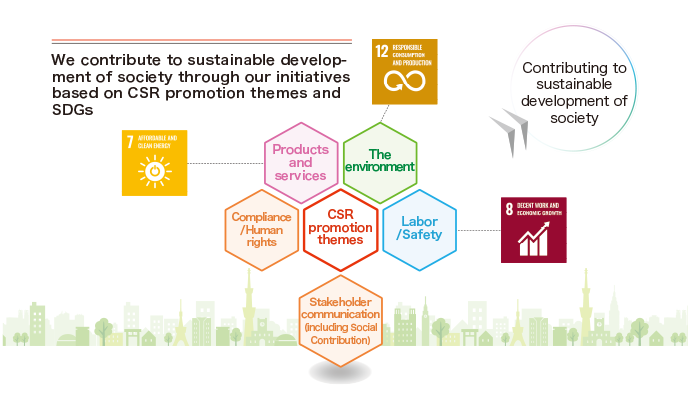 August 2020
Mitsutaka Yoshii
President and Representative Director,
Bando Chemical Industries, Ltd.