Training and education
Material Issue Training and education
Targets/Vision

● Develop personnel with specialties, creativity, and individuality
[Responsible Departments]
[Policy/Point of view] 
Based on the idea that "the Bando Group's business is dependent on our people" set forth in the "Group Code of Conduct," the Group strives to develop personnel with specialties, creativity, and individuality. We promote effective employee education according to the "Regulations on promotion of education and training" based on the "Human Resource Development Basic Policy" of Banco Chemical Industries.
[Visions]
Develop personnel with specialties, creativity, and individuality
[Measures]
With (1) self-development, (2) development through operations (OJT), and (3) character building as basic policies, we make programs and set targets for the level-based and function-based education under the annual education and training policy (Education and Training Promotion Committee).
Human Resource Development Policy
Based on Bando's management philosophy, our human resource development policy is designed to enhance each employee's abilities, motivation and devotion to teamwork. We want each employee to grow personally through their work and have a useful role in the company. The educational system is divided into two categories: hierarchical education and function-based education. Hierarchical education is divided across the sectors to recognize role recognition by each level, interpersonal skill improvement, and function-based education to acquire expertise necessary for performing duties. In addition, we set up an educational policy that is an important goal every year and are promoting each educational policy.
The education curriculum for the production division is revised regularly to link lectures with the actual work, and we plan to apply this approach to other divisions.
Participants of external education programs are selected based on recommendations on the basis of each candidate's career and internal application, etc. to support individual career development.
[Main educational and training programs]
Training by qualification hierarchy (training for eligible workers)
Follow-up training after 3 years of entering the company
New Employee Training
Bando Institute of Technology (5 programs)
Education of manufacturing technologies conservation (consisting of 3 programs such as production technology)
Manufacturing School(Education consisting of 5 programs for each stage of manufacturing site)
Bando Sales and Marketing School (2 courses)
Manufacturing School

It is designed to cultivate abilities to solve problems or issues at the production bases and enhance knowledge and expertise required of leaders on the manufacturing front lines through self-directed improvement activities. In fiscal 2016, we started participating in other companies' improvement activities as well, helping to change our awareness. We have also had personnel from overseas production bases participate in some of the training.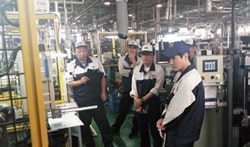 Online training

In fiscal 2020, as a measure against COVID-19, we shortened the period of certain trainings or cancelled them and replaced many group trainings with online trainings which allow group members to communicate as much as possible.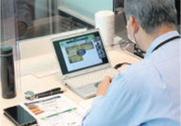 Established a selection-type training system to develop expatriates (and the next-generation leaders)
We plan to provide candidates for leaders who will bear the future of the Company with overseas work experiences to develop their career path proactively and systematically. So, we created a selection-type training program (regardless of job type/age/service years) to prepare candidates for overseas assignments in advance in terms of both skills and attitudes so they can exercise leadership as soon as they take up their new posts. As this program aims to foster not only expatriates but also next-generation leaders in Japan, participants will study language (English) for three years and their respective specialized fields for one year to improve business skills as well as the Company's expertise. We launched this program in April 2021, with the target of language level set at B score or higher in CEFR.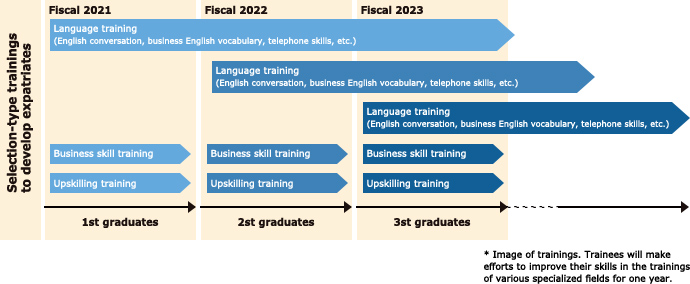 Enhancement of communication
We organize various events such as "Sports day" and "Summer festival" to promote friendship between the Group's employees and their family members. On the "Children's visiting day" when employees' children visit their parents' workplace, we hope that the children not only see their parents work but also interact with working adults and learn about the joy and satisfaction of working so that each of them can develop their views on career and work. We also support 12 clubs and circles enjoying, for example, football, golf, and bowling to facilitate communication. Information on these events and activities is made available through communication tools such as the Group Intranet and the Group newsletter and significantly contributes to offering hot topics about the Group and sharing updates on other offices and employees.