Customer health and safety
Quality Policy

[Basic Philosophy]

The Bando Group will establish a product policy based on the needs of society. The Bando Group will conduct business activities centered on rubber and plastic products, and system products including those products, and all facets of supplying products and services, and will concentrate the originality, ingenuity, and ability to take action of all employees and, by implementing continuous improvement, satisfy customer needs and expectations.

[Action Principles]

1.Promote design, manufacturing, and sales activities devoted to the supply of 'helpful', 'trusted', 'happiness inducing' quality to clients.

2.Establish zero-defect processes.
Material issue Customer health and safety
Targets/Vision

● To comply with regulations and voluntary codes on safety and health of products and services
● To completely understand components contained in raw materials purchased
Reduction of highly toxic chemicals
The Group uses many chemical substances as raw materials and secondary materials in manufacturing processes of our products. As some of them are or are feared to be toxic to human health, we are trying to reduce the use of these substances gradually. In fiscal 2018, we worked to replace certain phthalate esters subject to RoHS Directive*1 and MOCA*2 which is on the authorization list of REACH*3, and change the form of antimony trioxide. For phthalate esters, we conducted a comprehensive review, including their inclusion in products, process control and material management in consideration of their migration characteristics, and completed the replacement in power transmission belts in 2017 and rubber conveyor belts in September 2018. For MOCA, we selected several alternatives and are currently examining them. For antimony trioxide, its potential impact on human health through exposure to human body has been highlighted, and therefore we need to change its powder form into a different form that does not disperse. So far, we replaced part of it with wet-type product but are planning to shift to masterbatch*4 gradually.
*1RoHS Directive: European Union's Directive on the restriction of the use of certain hazardous substances in electrical and electronic equipment

*2REACH: Regulations by the European Parliament and the Council on Registration, Evaluation, Authorization and Restriction of Chemicals

*3MOCA: Abbreviation of 3, 3'-Dichloro-4,4'-diaminodiphenylmethane. Used as hardener, etc. for polyurethane resin

*4Masterbatch: Antimony trioxide solidified using various resins
Compliance with regulations/voluntary codes on safety and health of products and services
The Bando Group systematically performs self-audit of in-house operations and audit of suppliers and business partners to identify and address issues as preventive measures. In addition, we identify products subject to the Food Sanitation Act and conduct sampling inspection for conformity with product specification. In order to comply with recent regulations on environmental load substances, we conduct inspection not only for main raw materials but also for secondary materials such as production tools and packing materials and are establishing necessary systems.
In fiscal 2018, there has been no violation of regulations on safety and health of products and services that results in serious penalty or sanction.
Quality control management
In order to satisfy our customers, our group is striving to provide products and services that meet the needs of customers "safety, environment, quality, delivery time, and cost" requirement. We are continuously improving our quality control system for design/development to mass production/sales by receiving certification audit for quality management system (ISO9001 and IATF16949).
The Group's basic idea is "voluntary inspection" by the person (or department) who incorporated the quality checks. Through this self-inspection, we confirm the results of our work instantaneously on our own and minimize problems by expediting the necessary processing quickly. In other words, we conduct inspections with inspection items, standards and methods that are clearly determined for each manufacturing process, and not only troubles of our own process but also the defects of products flowing from the previous process are found and fed back.
●Acquisition of quality management system certification in Japan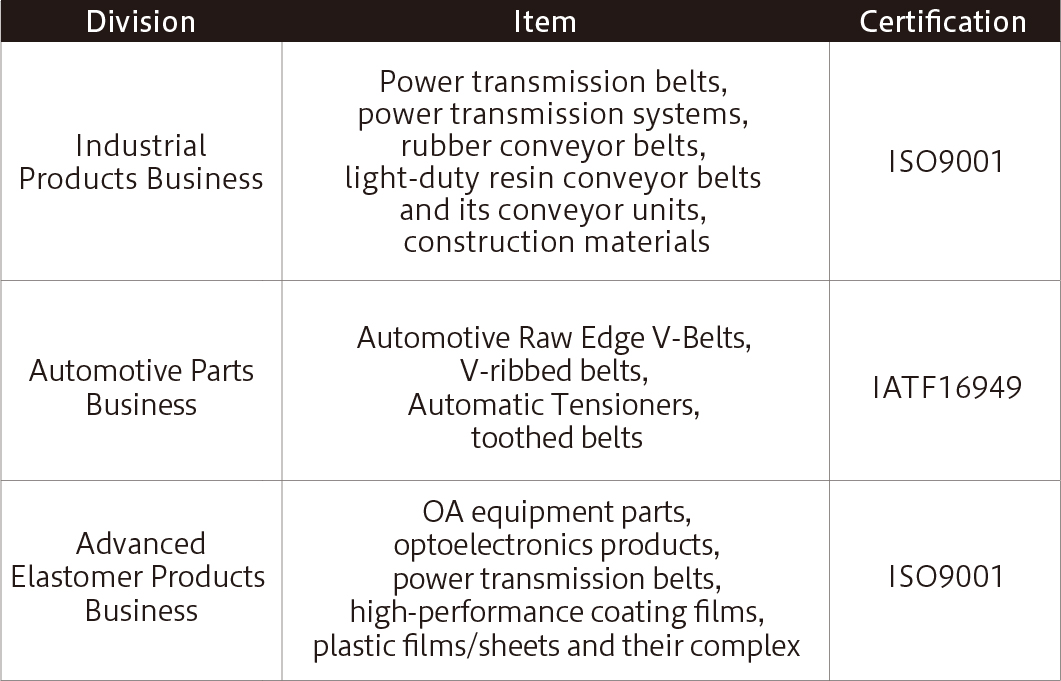 ●Acquisition of quality management system certification in overseas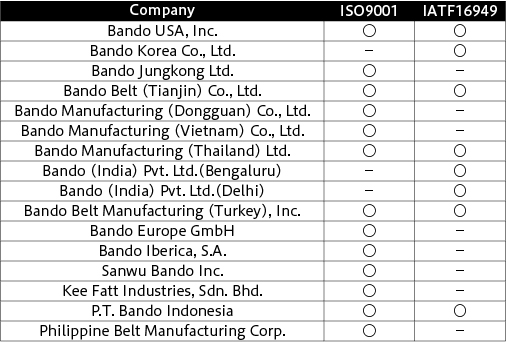 Early response to defects in the market
| | |
| --- | --- |
| The Bando Group treats all customer complaints with complete sincerity, even if the attribution for the complaint is still unclear. We have established rules, applicable from management through those responsible for and associated with the quality particular products, and top priority is given to a quick and reliable response to customer complaints. | |
QC (Quality Control) Circles
Bando started QC activities more than 50 years ago, and each site now has an administrative committee focused on continuing voluntary improvement activities, particularly in manufacturing. QC Circle activities originate with and are implemented by circle members to increase awareness and capabilities, and to educate future leaders. The goal is to increase customer satisfaction and make a social contribution through a bright, vibrant and meaningful workplace.
Additionally, each year we hold QC Circle Presentations at our sites in ASEAN on a rotating basis, with one circle from Bando also making a presentation. These presentations are also a good opportunity for plant tours and information exchange.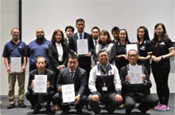 Presentations at Bando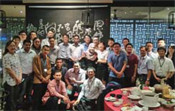 ASEAN QC Circle
Presentations
(Taiwan is pictured)