Materials/ Energy
Material Issue Materials
Targets/Vision

● Reduce intensity of raw material input to below the best value in the past three years
Reducing Waste Emissions
The Company's industrial waste largely consists of rubber and plastics. As rubber is difficult to reuse, the Company strives to reduce waste primarily by curbing waste generation at manufacturing sites. We also make effort to reduce waste consist of improving our production facilities and reviewing our manufacturing methods to reduce defective goods and loss, and promoting the 3Rs (reduce, reuse, and recycle). In fiscal 2018, raw material-related wastes per raw material input increased 10.3% compared to the best value in the past three years due to an increase in loss generated in the process of reducing environmental impact substances and changes in product mix, despite our active efforts to improve facilities and develop new production methods. However, we have managed to maintain zero emissions through thorough waste separation. We will continue to work on reducing waste generation for the efficient use of resources.
Waste generation and raw material-related wastes, intensity of raw material input (Bando Chemical Industries)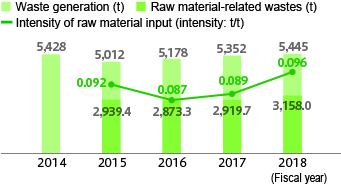 *Starting fiscal 2015, the Company changed the indicator of the reduction of waste generation from intensity of waste generation to raw material-related wastes and intensity of raw material input to start management focusing on improving resource productivity.
Recycling rate (Bando Chemical Industries)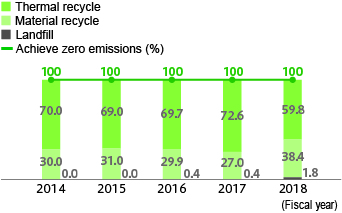 Material Issue Energy
Targets/Vision

● Reduce intensity of energy consumption to below the best value in the past three years
Reduce energy consumption
We work on systematic energy-saving initiatives including the energy saving patrol whereby we check our production processes for their improvement activities and energy usage and give guidance to correct inefficient use and the energy saving diagnosis by external energy management experts. In fiscal 2018, although we saw some energy-saving effects of a cogeneration system introduced in the previous year at Ashikaga Plant which uses hot water heat source for air-conditioning facilities, energy consumption per volume of raw material input remained unchanged from the fiscal 2017 level due to a change in the product mix. We will continue to work on our initiatives according to the plan.
Energy consumption per volume of raw material input (Bando Chemical Industries)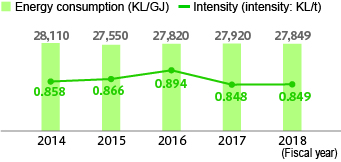 Introducing renewable energy
The Company actively uses renewable energy. We started introducing solar power generation systems gradually in our domestic plants since fiscal 2010. Ashikaga Plant sells electricity that it generates to the Tokyo Electric Power Company Group using Japan's feed-in tariff ("FIT") scheme for renewable energy.
● Energy production in 2018
| Business facilities introduced solar power generation systems | Wakayama Plant | Kakogawa Plant | Nankai Plant | Ashikaga Plant |
| --- | --- | --- | --- | --- |
| Solar cell capacity (kW) | 150 | 160 | 200 | 1,750 |
| Annual energy production (thousand kWh) | 171 | 178 | 243 | 2,565 |
*lectricity generated at Ashikaga Plant (BANDO eco moving Ashikaga solar power station) is sold to the Tokyo Electric Power Company Group through our group company using the FIT system for renewable energy. E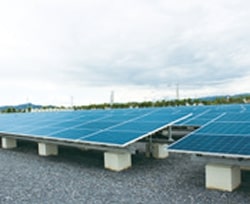 Solar panels at the BANDO eco moving solar power facility
TOPICSSwitch to high-efficiency equipment and LED lighting system
At Ashikaga Plant, we employed the Ministry of the Environment's ASSET* to switch to a power generator that uses city gas instead of heavy oil and air conditioning equipment that uses waste hot water from the generator, and also introduced LED lighting. The subsidy is granted for CO2 emission control measures subject to the introduction of certified products using leading and low-carbon technology. We started to work on the concept in 2015 and it took us three years to evaluate profitability and finalize the plan to apply for the subsidy and finally complete the plan.
The new power generator provides most of the electricity used by the plant (half in the summer and two-thirds in the spring, fall and winter). In fiscal 2018, such equipment replacements and shift to LED lighting reduced CO2 emissions by 1,606.9t-CO2, or over 19.5% of the annual CO2 emissions at Ashikaga Plant.
* ASSET: Advanced technologies promotion Subsidy Scheme with Emission reduction Targets

Improvement of Energy management technology
We have energy management training for energy managers to learn about equipment and design energy saving equipment for manufacturing.