Basic Environmental Policy
Basic Environmental Policy
The Bando Group understands that protection of the environment is a major issue for global society. We are deeply committed to using the creativity and innovation of every employee to work for environmental protection and pollution prevention in our business activities, which are largely related to products, systems and services incorporating rubber and plastics.
1. Product development in consideration of environmental protection


(1) Reduce environmental load through development of compact products and systems
(2) Use raw materials with reduced environmental impact
(3) Conserve energy and recycle
2. Comply with municipal and industrial laws and agreements related to the environment, and work for sustainable resource use, climate change mitigation and adaptation, protection of biodiversity and ecosystem, environmental protection and pollution prevention in local communities
3.Take action to conserve resources and energy, recycle and reduce waste
4. Our environmental policy is public knowledge, known to all of our employees, affiliates and business relations. All employees participate in education and training related to environmental preservation and pollution prevention activities.
5. We set reasonable environmental objectives and targets, and all employees are expected to creatively take action to ensure implementation. We regularly review our progress, and continue to revise and expand our environmental preservation activities.
Environmental Promotion Organization
Our headquarters-based Environmental Committee promotes Bando's environmental management system.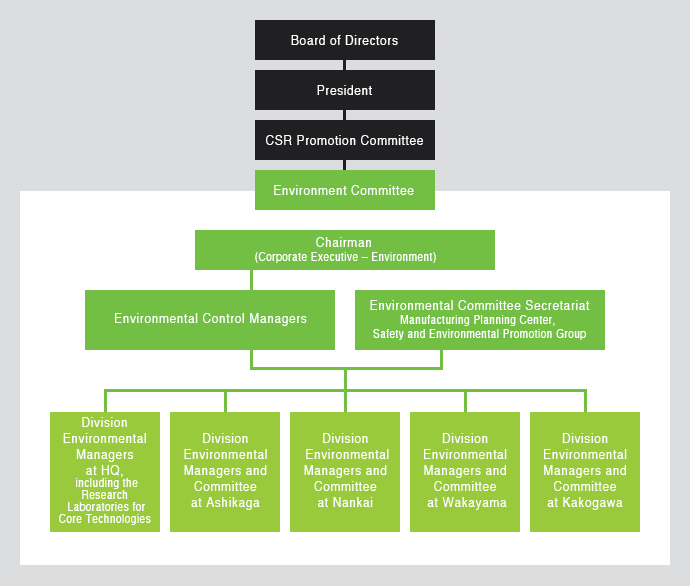 Environmental Audit System
Bando's environmental audits are divided into internal audits and those by ISO examining authorities, based on ISO14001. Audits are conducted on the basis of yearly plans to isolate issues needing implementation or corrective or preventative measures. Items of particular importance are further reviewed by management, an important part of the environmental management system. Also, internal standards are set and monitored to prevent the occurrence of defects.