Governance/ Internal Control/ Information Security
Corporate governance
Basic Stance
By adopting a Company with an Audit & Supervisory Committee structure, under which directors who are Audit & Supervisory Committee members audit and supervise execution of duties of executive directors while having voting rights of the Board of Directors, Bando aims to further enhance auditing and oversight functions.
The Company's Board of Directors consists of eight members, with four of those eight members serving as members of the Audit & Supervisory Committee. The Board meets at least once a month.
The Board's three external directors are charged with the independent oversight of business operations. Despite having no legal obligation under the Companies Act, the Company has established the Nominating Committee and Compensation Committee to serve as consultative bodies of the Board of Directors in an effort to further strengthen corporate governance.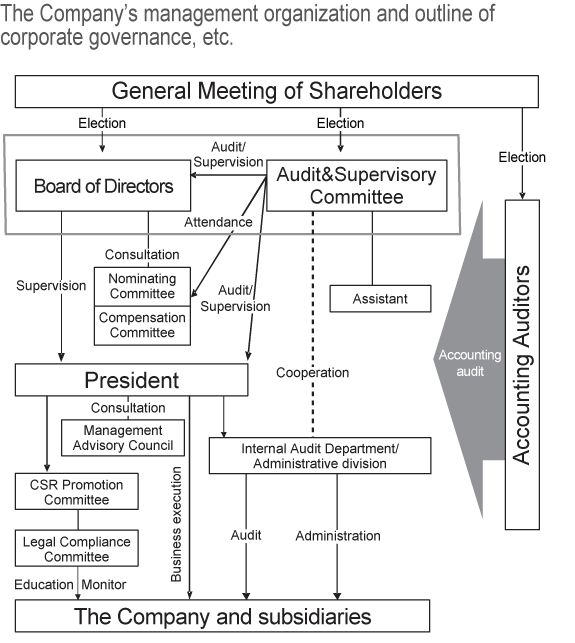 Analysis and Evaluation of the Effectiveness of the Board of Directors
For analysis and evaluation of the effectiveness of the Board of Directors, the Board of Directors carried out a self-evaluation survey in regards to their operation and management style and the chair of the Board of Directors carried out his own analysis and evaluation of directors' self-evaluation. Those results were reported to the Board of Directors and discussed.
The Board of Directors added a member well-versed in R&D and new product development in fiscal 2018. Through lively discussions incorporating a variety of perspectives and with a composition maintaining balance and diversity of knowledge, experience, and skill, the Board of Directors arrived at the conclusion that there are no overall issues with effectiveness. However, they expressed the opinion that it would be desirable to enrich their strategic discussions related to achieving the targets of the mid-to-long term business plan, create more concise materials for the summary of issues, and share a broader range of topics at an earlier stage in order to improve their effectiveness.
Taking into account these opinions, we will strive to further enhance the effectiveness.
Internal Control
Improvement toward effective internal control
To meet the requirements stipulated in the Financial Instruments and Exchange Act pertaining to financial reporting performed by internal control reporting systems, the Company maintains internal control in accordance with the basic frameworks for internal control outlined in Financial Services Agency criteria, and undertakes evaluations and reporting as defined by said criteria. The Bando Group will work to further improve the effectiveness of internal control based on the four objectives of internal control: (1) reliability of financial reporting, (2) operational effectiveness and efficiency, (3) legal compliance regarding business activities, and (4) asset protection.
Information Security
Maintenance and management through system/education/internal control audit
To maintain and manage information security, the Group provides training on targeted e-mail attacks and information security training via e-learning system to all employees and temporary staff who use the Group network in addition to ongoing system reinforcement.
As part of internal control audit, we also perform IT control audit to maintain effective and efficient internal control system including information security.